Dallas Workplace Accident Lawyer
Workplace Accident Injury Statistics
According to one survey, in 2021, Texas employers experienced nearly 3 employee injuries and illnesses per 100 full-time employees. Industries with the highest rates of workplace injuries include:
transportation;
warehousing;
retail trade; and
arts, entertainment, and recreation.
The following chart provides a summary of nonfatal workplace incidents that resulted in injuries or illnesses in Texas: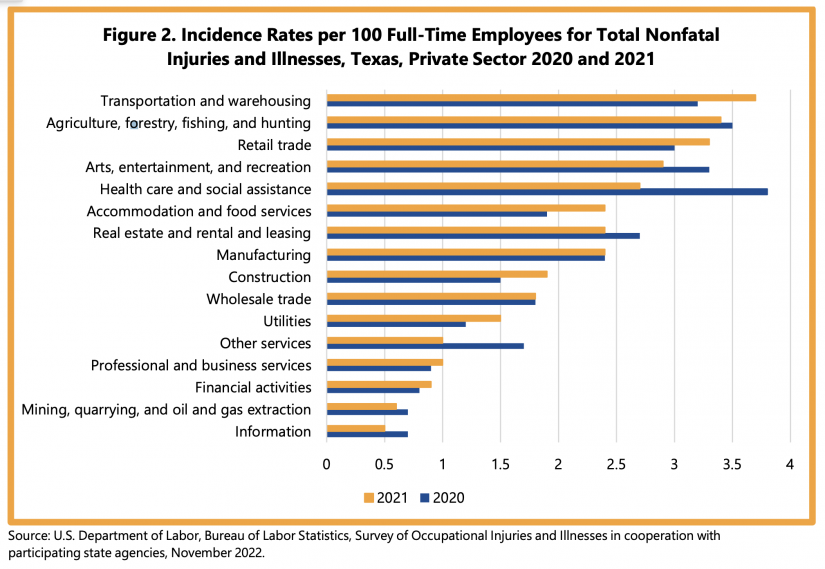 Sadly, in 2021, there were 533 fatal occupational injuries in Texas. According to the U.S. Bureau of Labor Statistics, the 533 workplace fatalities that year were the result of the following types of workplace accidents and incidents:
260 transportation-related fatal workplace injuries;
88 fatal falls, slips, and trips;
66 fatal injuries from contact with objects and equipment;
57 fatal injuries from workplace violence and other injuries by persons or animals;
54 fatal injuries from exposure to harmful substances or environments; and
7 fatal injuries from fires and explosions.
The following is a list of the number of fatal workplace injuries in Texas by industry/occupation:
Transportation and material moving occupations: 190
Construction and extraction occupations: 115
Installation, maintenance, and repair occupations: 52
Building and grounds cleaning and maintenance occupations: 30
Production occupations: 27
Sales and office occupations: 26
Protective service occupations: 24
Management occupations: 19
Sales and related occupations: 19
Farming, fishing, and forestry occupations: 13
Food preparation and serving related occupations: 6
Business and financial operations occupations: 4
Architecture and engineering occupations: 4
Healthcare practitioners and technical occupations: 4
Personal care and service occupations: 4
Common Questions and Concerns After a Workplace Injury
Being injured at work can be both physically and emotionally taxing. If you or a loved one were injured on the job, you may be wondering:
"Will I be compensated for lost wages?"
"Who will cover my medical expenses?"
"Do I have a legitimate claim?"
An experienced personal injury lawyer can provide you with clear answers to these questions and help you navigate the complex maze of workplace injury laws in Texas.
Texas Employers: Subscriber vs. Nonsubscriber Status
In Texas, the workers' compensation system operates a bit differently than in many other states. Unlike many other states, Texas employers have the option to choose whether or not to participate in the state's workers' compensation system. This participation status leads to the designations of "subscriber" versus "nonsubscriber."
Subscribers (Employers that Provide Workers' Compensation to Employees Injured On the Job)
Protection from Lawsuits: Subscribers are generally immune from personal injury lawsuits filed by employees for workplace injuries. Instead, injured employees are compensated through the workers' compensation system, which pays for medical expenses and a portion of lost wages regardless of who was at fault for the injury.
Defined Benefits: The benefits an injured worker can receive are set by the workers' compensation system, which means they are subject to caps and limits determined by state law.
No Fault System: Employees don't need to prove the employer was negligent to get benefits. Similarly, an employer's defenses based on an employee's negligence (like contributory negligence) are limited.
Nonsubscribers (Employers That Do Not Provide Workers' Compensation to Employees Injured On the Job)
Vulnerability to Lawsuits: Nonsubscribers lose the legal protection offered by the workers' compensation system, making them susceptible to personal injury lawsuits from injured employees. This means employees can sue for a broader range of damages, including pain and suffering, and potentially receive more compensation than under the workers' compensation system.
Burden of Proof: If sued, nonsubscribers cannot argue in court that the injured worker's negligence caused the injury if the employer's negligence is proven to have contributed at all. This is a significant departure from typical personal injury defenses.
Potential for Greater Financial Exposure: Given the possibility of personal injury lawsuits with potentially large verdicts, nonsubscribers may face more significant financial risks following a workplace injury.
Alternative Plans: While nonsubscribers opt out of the state workers' compensation system, many choose to offer alternative occupational injury benefit plans to their employees. However, these plans aren't a substitute for workers' compensation and don't provide the same legal protections.
Employers who choose nonsubscriber status must notify the Texas Department of Insurance, post notices in the workplace, and inform employees of their decision not to have workers' compensation insurance.
Deciding between subscriber and nonsubscriber status is significant for Texas employers, as each comes with its own set of advantages, responsibilities, and risks. Construction workers, in turn, should be aware of their employer's status as it can impact their rights and remedies in the event of a workplace injury.
List of Large Employers in Texas Without Workers' Compensation (Non-Subscribers)
Texas is home to some of the nation's largest employers. According to data collected by the Texas Department of Insurance, the following is a list of some of Texas's largest employers that do not provide workers' compensation to employees who are injured at work (non-subscribers):
Energy Industry Non-Subscribers in Texas
Retail Industry Non-Subscribers in Texas
Walmart
The Home Depot
Lowe's
Amazon
Target
HEB
Kroger
Randalls
Tom Thumb
Whole Foods
Sam's Club
Costco
Albertsons
United Supermarkets
Brookshire Brothers
Brookshires
Safeway
Fiesta
Nordstrom
Dillard's
Macy's
Neimn Marcus
Academy
Dollar General
Family Dollar
Dollar Tree
Hobby Lobby
Ross
Aarons
Tractor Supply
GNC
James Avery Shops
Circle K
Pilot Travel Centers
7-Eleven Stores
Quicktrip
Office Max
Office Depot
Reddy Ice
Petsmart
Best Buy
Big Lots
Burlington Coat Factory
Ulta
Kirklands
Bass Pro Outdoor World
Cabelas
Trucking, Transportation, and Distribution Industry Non-Subscribers in Texas
Sysco
JB Hunt
McLane Trucking Co.
Swift Transportation
Rent-A-Center
Ryder
Ben E. Keith
Auto Industry Non-Subscribers in Texas
Caliber Auto Care Center
Caliber Collision Center
Pep Boys
O'Reilly's Auto Parts
Advance Auto Parts
Service King
Autozone
Waste Management Industry Non-Subscribers in Texas
Agriculture Industry Non-Subscribers in Texas
Sanderson Farms
Tyson Foods
Restaurant Industry Non-Subscribers in Texas
What-a-Burger
McDonalds
Pappas Restaurants
Denny's Restaurants
Subway
Saltgrass
Landry's
Waffle House
Wendy's
Jack in the Box
Rudy's
Taco Bell
Braums
Maggianos
Chilis
Dominos Pizza
Sonic
Applebees
Church's Chicken
Healthcare Industry Non-Subscribers in Texas
Methodist Hospitals Of Dallas
Baylor Scott & White Health
Memorial Hermann
Texas Health Presbyterian Hospital
CareNow
Concentra Health Services
Christus Health
Medhealth
Hotel Industry Non-Subscribers in Texas
Omni Hotels Management Corp
Wireless Service Providers
Common Types of Workplace Accidents
Workplaces, particularly those in the construction, transportation, and industrial industries, can be hazardous. Common workplace accidents include slips and falls, machinery accidents, falling objects, electrical accidents, and vehicular accidents. Regardless of the type of accident, when an incident is caused by the negligence of an employer, an experienced personal injury lawyer can help you avoid any missteps in pursuing your personal injury claim.
Common Causes of Workplace Accidents
Workplace accidents often occur due to a variety of causes. Negligent maintenance, inadequate training, defective equipment, and failures to follow safety protocols are frequent culprits. An employer's obligation is to maintain a safe environment for its workers. When this duty is breached, the employer can be held liable for the resulting injuries.
Common Injuries Caused by Workplace Accidents
The aftermath of a workplace accident can result in a spectrum of injuries. From fractures, burns, and lacerations to more severe ailments like traumatic brain injuries, spinal cord damages, or even death, the consequences can be life-altering. Recognizing the profound impact of these injuries, our team is committed to ensuring victims receive the care and compensation they rightfully deserve.
Relevant Evidence in Workplace Accidents
Building a robust personal injury claim requires concrete evidence. This could include photographs of the accident scene, witness statements, maintenance records, training logs, or any violation of safety standards. Gathering this evidence can be overwhelming for injured parties. However, with the support of a seasoned workplace accident lawyer, this process can be streamlined and effectively managed.
Steps to Take if You've Been Involved in a Workplace Accident
If you've been involved in a workplace accident, your immediate priority should be to seek medical attention. Once stable, document the incident by reporting it to your supervisor. Collect names and contact details of witnesses, take photographs if possible, and avoid making any definitive statements without consulting an attorney. Remember, what you say can be used against you in future proceedings.
How Much Can You Recover from a Workplace Accident Personal Injury Claim?
The compensation from a workplace accident claim can vary based on factors. In general, wrongful-death claims arising from a workplace accident are worth more than claims involving nonfatal workplace accidents.
Other factors that may affect the value of your claim include:
the nature and severity of your injuries,
the employer's actions before and after the accident,
the employer's subscriber or nonsubscriber status,
your medical expenses,
the intensity and duration of your pain and suffering,
your loss of enjoyment of life because of your workplace injury,
your past and future lost wages,
your loss of earning capacity as a result of your workplace injury,
your future healthcare needs, and
other harms and losses that you may have suffered.
A personal injury lawyer can help you evaluate how much your workplace accident claim may be worth.